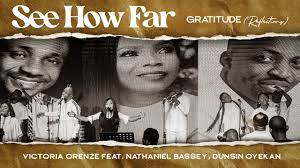 Hello Fam,
Welcome to our first review edition this year. It's no coincidence that we're starting with this prophetic sound by Minister Victoria Orenze- See How Far.
---
It's a song of thanksgiving, acknowledging God for His love, mercies, grace, favour… You may think the year is only a few days old, isn't it too early to testify this way? Well, not so. You can take a prophetic stance on this, trusting God that this song will be your testimony all through this year and beyond. Also, you can thank God for where He's brought you from. Thank Him for all His goodness you have enjoyed in previous months, years, and decades.
Recall 1 Corinthians 4:7 (KJV), "For who maketh thee to differ from another? and what hast thou that thou didst not receive? now if thou didst receive it, why dost thou glory, as if thou hadst not received it?"
If you acknowledge the blessings in your life are not by your expertise, take some time to reflect as you listen to this song and do return all glory to the One who deserves it- God!
You'd notice the ministers shared their old photos in the background? 😊 Surely, God has done them well. You may want to dig up your old photos as well, it may help you better appreciate God for how far He's brought you.
See How Far premiered on 30th December 2022. In the words of Minister Victoria, "You can't be the same after this encounter."
God's blessings always,
Dammy
*Image: Sourced here