2020 has undoubtedly been a jolt to many of us. It's been the reminder we've tried to shy away from. Alas, it's in our faces this time and we should be thankful for the sudden reminder it brings.
You probably know someone or someone that knows someone that has passed on in recent times; some from preventable causes, and others, unpreventable. For most part, people speak about the impact of the transitioned soul , not how much he/she had or did not have.
How about we take this season to introspect. What is God's purpose for my life? What am I living for? Should God call me up, would I be able to say like Apostle Paul that I have finished my course?
Purposeful living should become our watch word. Living with eternity in view. Living for the One who has called us and not for the applause of men.
You've probably heard people say, "God has never spoken to me.How can I know His purpose for my life?"

While God could speak through His audible voice, He could also speak through His word (the Bible), but to hear from Him, we must stay in the word. In addition, we can receive light from the revelation others have caught and shared through documented materials (books, podcasts, videos, etc).
It is against this backdrop that we would be revamping the 1nebody book club 🕺👯‍♂️👯‍♂️ Yes, we were complacent for so long, but, we're back now and for the long haul, by God's grace. Let's get ourselves to become intentional about living out God's best for our lives through knowledge.
Our first read is from the Apostle of purpose himself, Myles Munroe. Beginning 1st August 2020, we'll be reading 'Maximizing your potential-the keys to dying empty.' However, we'll gather as a group on Saturday, 8th August 2020 to learn from one another. Kindly see flyer for details.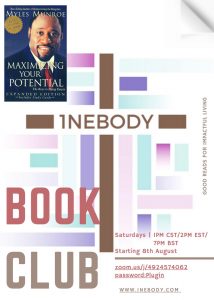 Please do well to share this with your friends, family and colleagues. In fact, everyone in your circle is welcome.